[Exclusive] Don't Let Hantu Know: Special Edition Button Badge
👻 "Boo-yah!" 👻
The highly anticipated "Don't Let Hantu Know" is BACK with exclusive official merchandise on sale in conjunction with the Watch From Home@klpac ONLINE release.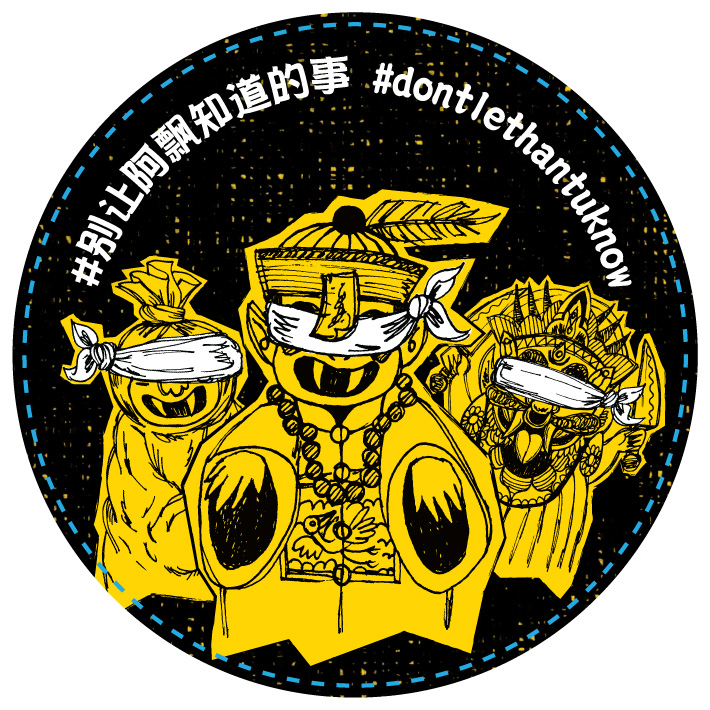 Don't Let Hantu Know Button Badge (Safety Pin)

Available in FULL Colour with ROUND Shape.
Size 60mm

[SPECIAL 2-in-1 PROMO]

YOU can collect TWO of the #DontLet Series's Button Badges

1 x #DontLetJoeAndFaridahKnow (2019) Button Badge
1 x #DontLetHantuKnow (2021) Button Badge
pack in

1 x Limited Cotton Drawstring Pouch
+
1 x #DontLet Series Button Badge (Random)
IMPORTANT:
Please make sure you have read and understood all conditions stated below before submitting your orders.
Terms & Conditions.
1. First-come first-serve, while stocks last.
2. Payment must be made in full before an order can be finalized.
3. Listed product price is in Malaysian Ringgit (MYR).
4. Due to restrictions during the FMCO, the delivery services may take longer.
We apologize for any inconvenience caused.
Message from klpac & TAS
klpac & TAS' COVID-19 RELIEF FUNDRAISING
Our losses due to Covid-19 amount to RM2 million. Due to the FMCO and our current closure,
we urgently need to raise at least RM130,000 to pay our staff
(who have already volunteered for 30 – 50% pay cut) and utilities for June and July 2021.
Each ticket sold under our Watch From Home or WFH@klpac series goes toward this immediate cause.
You can also make a donation of any amount via https://www.klpac.org/donations/.

You may also like:
---